What's Inside the 2019 Aston Martin DB11 Interior?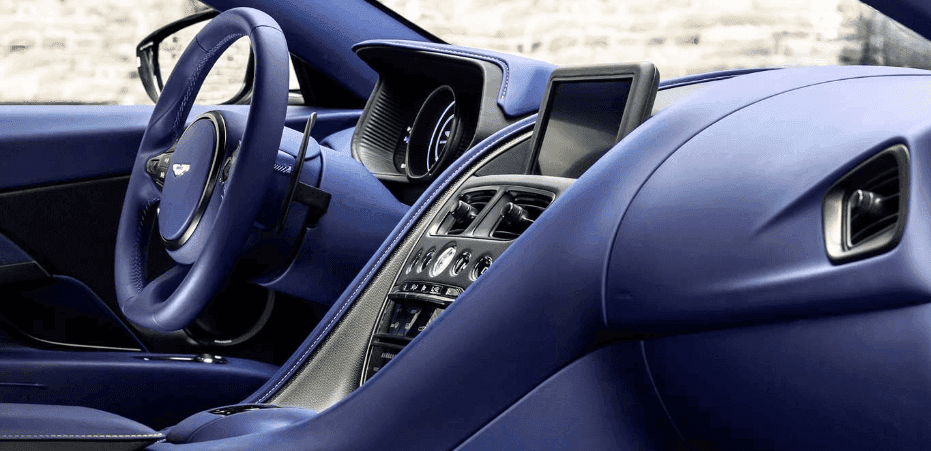 ---
---
The Aston Martin DB11 has been celebrated as a sensationally stylish powerhouse with some of the most impressive performance chops on the road today, but have you ever taken a glimpse inside? You're bound to be blown away by the high-tech luxuries within the Aston Martin DB11 interior, and auto aficionados all over San Antonio have been lining up to get behind the wheel at Aston Martin Austin. If you want to get a sneak peek at the opulence within, check out our favorite features in the Aston Martin DB11 cabin:
Spectacular Style & Roomy Dimensions
The Aston Martin brand knows refinement, and their commitment to high-quality craftsmanship is evident in every square inch of the cabin. But above all, your Aston Martin is created just for your particular wants and needs. Why not try options like Celestial perforation and Nexus qualiting for your DB11 or Open Pore Wood accents on your Volante? No matter what you choose, the handcrafted beauty will turn the most ordinary Dallas commutes into a world-class ride. Plus, the dimensions have been fine-tuned from previous generations for maximum efficiency:
The Coupe is now a true 2 + 2 with an extra half an inch or so of headroom up front and extra two inches in the rear.
The Volante has a stack height of 10 inches to optimize the rear profile while adding extra space for more cargo capacity.
A four-passenger seating capacity allows you to show off that smooth Aston Martin handling while driving friends and family though Houston.
State-of-the-Art Technology
The Aston Martin DB11 interior is undoubtedly stylish, but that's not all that it brings to the table. The incredible technology onboard aids in your comfort and convenience on the road, resulting in a truly next-level driving experience you won't get just anywhere else. Take a look at the standout features:
The 12-inch TFT LCD display showcases primary vehicle information in full color, while a second 8-inch TFT screen acts as the virtual headquarters for all of your personal media.
Satellite navigation keeps you in the right direction to any destination and cutting-edge safety features prevent any unexpected surprises on the road with features like Blind Spot Assistance and Auto Park Assist.
Premium audio systems turn your cabin into an auditorium on the go with options like Aston Martin Premium Audio or Bang & Olufsen BeoSound system.
Try the Aston Martin DB11 at Aston Martin Austin
You've read all about the Aston Martin DB11 interior, now see it in person at Aston Martin Austin! See the Updated 2021 DB11 Interior, check out our new DB11 inventory, or view our current DB11 lease specials. Ready for your test drive in Austin? Contact us for more information!
More About Aston Martin DB11 Features
Learn More New DB11 Inventory Contact Us The Aston Martin DB11 has been celebrated as a sensationally stylish powerhouse with some of the most impressive performance chops on the road today, but have you ever taken a glimpse inside? You're bound to be blown away by the high-tech luxuries within the Aston Martin DB11 interior,…

Learn MoreNew DB11 Inventory If you want a classic British sports car, you can't go wrong with the 2019 Aston Martin DB11. Sleek, stylish, and undeniably powerful, the DB11 is instantly recognized by its clamshell hood and fierce grill. Aston Martin Aeroblade™ helps take the new Aston Martin DB11 horsepower to the max. So, what…