2020 Aston Martin Vantage vs. 2020 Porsche 911 GT3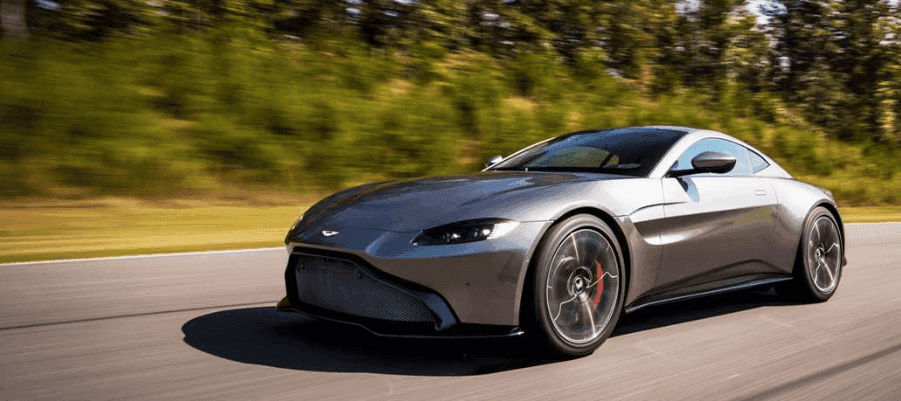 2020 Aston Martin Vantage
4.0L twin-turbocharged V8 engine
4.0L twin-turbo, flat-six engine
Rear mid-mounted ZF 8-speed automatic
7-speed Porsche Doppelkupplung (PDK)
0-62 mph (0-100km/h) in 3.6 seconds
505 lb-ft from 2000-5000rpm
Strathmore leather and Alcantara® environment
Black Alcantara® and black leather
If you've been researching performance sports cars in the Austin area, you might find yourself deciding between Aston Martin Vantage and the Porsche 911 GT3. At comparable price points, both Vantage and the 911 GT3 deliver on prestige and heart-pounding performance. However, when it comes to commanding attention on San Antonio roads, Vantage has the edge in styling, engine sound, and performance.
Please take a moment to review our Aston Martin Vantage and Porsche 911 GT3 comparison to see how Aston Martin not only stands out, but exhilarates the senses, compliments of Aston Martin Austin.
Vantage vs. 911: Performance Comparison
As a discerning Dallas-area driver, you want a performance sports car that delivers a primal driving experience. Built on precision and untamed power, Vantage brings an intensity that demands to be felt. And when it comes to deciding on the amount of power you want to unleash on San Antonio roads, Vantage's 4.0 twin-turbocharged V8 is a little more tempting than 911 GT3's flat-six. And roaring through Vantage's 8-speed transmission might be a bit more enjoyable than Porsche's 7-speed. Check out the performance numbers on Aston Martin Vantage and the Porsche 911 GT3 to see what they each bring to the table and where Vantage stands out:
Aston Martin Vantage
Engine: 4.0L twin-turbocharged V8 engine
Maximum power: 503bhp at 6000rpm
Acceleration: 0-62mph (0-100km/h) in 3.6 seconds
Transmission: Rear mid-mounted ZF 8-speed automatic transmission
Maximum torque: 505 lb/ft from 2000-5000rpm
Maximum speed: 195 mph
Front mid-mounted engine, rear wheel drive
Dual Variable Camshaft Timing
19.9 mpg urban / 35.3 mpg extra urban
Porsche 911 GT3
Engine: 4.0L twin-turbo, flat-six engine
Maximum power: 500hp at 6000rpm
Acceleration: 0-60mph in 3.8 seconds
Transmission: 7-speed Porsche Doppelkupplung (PDK)
Maximum torque: 339 lb/ft at 6,000rpm
Maximum speed: 198-197 mph
Rear engine
VarioCam timing control for intake and exhaust camshafts
13 mpg city / 21 mpg hwy (manual transmission)
While both the Aston Martin Vantage and the Porsche 911 GT3 undoubtedly offer a thrilling driving experience, Vantage has the numbers and the edge. If your pulse is already racing from Vantage's impressive specs, it might be time to take your comparison to the next level and experience the raw, primal athleticism of Vantage's twin-turbocharged V8 for yourself.
Experience Aston Martin Vantage at Aston Martin Austin!
Reserve your Vantage experience today with Aston Martin Austin in Austin to discover heart-pounding performance and precision like no other. If you have questions regarding the Vantage interior or would like to learn about the Vantage Roadster model, feel free to contact us at your convenience to discover even more about the raw athleticism of Aston Martin Vantage.
Want to continue your Aston Martin comparison research? Find out how the DBS Superleggera vs. Bentley Continental GT fare against each other to learn more!
script src="https://js.adsrvr.org/up_loader.1.1.0.js" type="text/javascript"> window.parent.postMessage({AutoLeadStarEvent: {type: "conversion"}}, "*");