How to Jump-Start a Car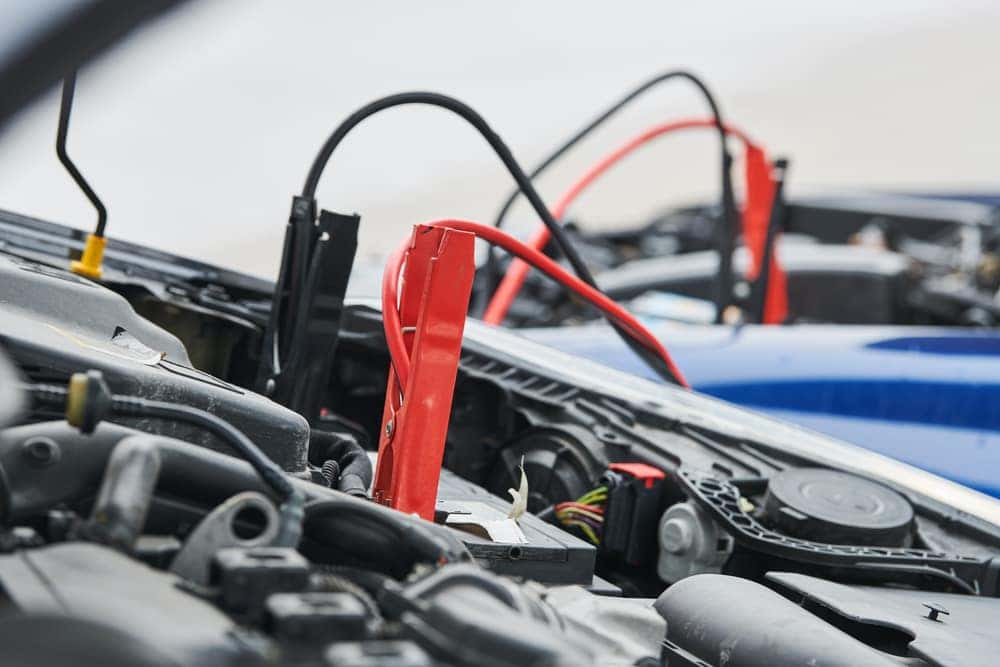 If you step into your vehicle in San Antonio and it won't start, it's likely that you need a jump-start, car battery service, or another similar type of auto service. Most likely, however, it's the first option. Thankfully, learning how to properly jump-start a car is simpler than you might imagine, especially when you follow this comprehensive guide from Aston Martin Austin. Avoid calling a pricey jump-start car service – learn how to jump-start a car, below!
The Proper Way to Jump-Start a Car
Jump-starting your car will require a set of jumper cables and another vehicle. If you don't have jumper cables on hand, you can always call a jump-start car service like AAA. Once everything is ready to go, follow the steps below:
Park the car with a good battery so that it is facing your vehicle, then make sure the vehicle is fully turned off. Check to ensure both vehicles' parking brakes are engaged.
Open the hoods of both cars and locate their batteries. Note: You may need to remove a plastic hood to expose the battery terminals.
Locate the positive and negative terminals and check that they're clean and free of corrosion.
Connect the red clamp to the positive post on the dead battery.
Uncoiling the battery cable, hook the other red clamp to the positive terminal of the charged battery.
Connect the black clamp to the negative post on the charged battery.
Connect the last clamp to an unpainted metal surface on the frame of the car with the dead battery.
After getting everything properly hooked up, start the engine of the car with the charged battery first, then start the car with the dead battery.
After jump-starting the dead vehicle, cautiously remove the jumper cables in the reverse order they were placed on. Then, turn off the car that jump-started the dead car.
Allow the engine of the jump-started vehicle to continue running for at least 10 minutes. The battery is likely weak, and this will ensure it isn't going to die again right away. Tip: Check your owner's manual for additional information on how long it is recommended to leave your specific vehicle running after a jump.
Additional Car Battery Tips and Tricks
Car won't jump-start? A full battery replacement may be necessary, or a more serious issue could be looming. Follow these steps to help troubleshoot the problem:
If you hear a clicking sound when attempting to start the vehicle, a malfunctioning starter is a likely culprit. For a replacement, you can schedule a service appointment with the state-of-the-art service center at Aston Martin Austin.
If your car's electrical systems turn on but the engine won't turn over, a number of issues could be causing the malfunction. The ignition switch, starter, battery, or a fuse could be at the root of the problem. In this instance, it's usually best to bring your vehicle to a professional service center to have a skilled technician diagnose the problem.
As we noted above, you should absolutely leave your vehicle running for a bit after getting a jump-start. The battery will likely be weak, and leaving the engine to run will allow it time to fully recharge.
Get Additional Service Help at Aston Martin Austin
The service center at Aston Martin Austin is just a short drive from Dallas and Houston! Whether you're in need of a new car battery, need help cleaning battery corrosion, or a serpentine belt replacement, our experienced technicians are here to help. Be sure to browse our service specials to see our latest offers before your visit, and contact us with any lingering questions or to schedule an appointment.
More from Aston Martin Austin
View InventoryContact Us Looking for a vehicle in San Antonio that delivers serious thrills while turning heads? The 2020 Aston Martin Vantage AMR Roadster is the elite driving experience you never knew you needed. The Aston Martin Vantage coupe offers a twin-turbo V8, but only the track-ready AMR has a manual transmission available for drivers. With…

View New Vantage InventoryContact Us The 2020 Aston Martin Vantage is one of the most cutting-edge performance cars on the market, and it has a sporty-sleek interior to match. Designed with San Antonio sports car enthusiasts in mind, the new Aston Martin Vantage interior features a cockpit-inspired design that perfectly marries luxury and functionality. Explore all…

Learn More New Vantage Inventory Contact Us The Aston Martin Vantage is a show-stopping beauty with incredible handling, V8 power, and luxurious features aplenty in its interior, but just what is the Aston Martin Vantage price? This unforgettable vehicle starts at a price point of $149,995 MSRP*, but there are dozens of different options to…